The literary world was stunned in the first week of March when prolific fantasy novelist Brandon Sanderson's Surprise! Four Secret Novels blew past $20M in its first 72 hours to become the most funded Kickstarter project of all time. On a platform best known for tabletop games like Exploding Kittens and Frosthaven, futuristic tech gadgets like the Pebble smartwatch and the Oculus, and (in certain circles), Potato Salad, how did a book project get so huge so fast?
I had the pleasure of working with Brandon Sanderson and his team in 2020 on their first Kickstarter campaign, The Way of Kings 10th Anniversary Leatherbound Edition, when I was Kickstarter's Head of Publishing. It blew away all previous records for publishing projects on the site. But when I heard about his new project—a campaign to publish four brand new novels in hardcover, ebook, and audio editions, with swag boxes themed after some of the universes his works are set in—I knew it would be even bigger. I predicted it would hit $10M—so even I was a little surprised at exactly how big this got.
What are the ingredients that go into a record-smashing campaign like this? Here are a few reasons the project is doing so phenomenally well:
A good campaign
There are some fundamentals to crafting a good Kickstarter Publishing project, and Brandon Sanderson and his team hit the marks. The campaign has a strong project image, a compelling personal video, and appealing rewards at different price levels. The manuscripts are done, and the project page lays out concrete plans and a timeline for publishing all four of the books and delivering the swag. When a potential backer believes a project is very likely to get made, they're more likely to back it.
Trust
Brandon Sanderson's fans believe that he'll deliver on all the promises his campaign makes. He has worked in a very public way for years, even posting progress bars on his website so fans know how far along he is on his various manuscripts. Dragonsteel Entertainment, his independent publishing company, has been producing and selling copies of his work and swag for years. They have already produced rewards for one Kickstarter project, and the books are beautiful. This gives backers a lot of faith that what they pledge for will be delivered and that the quality will be high.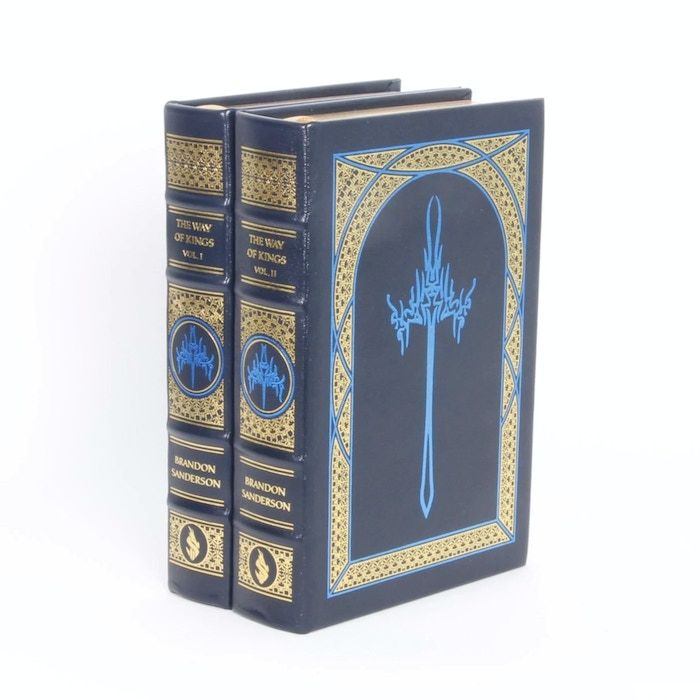 Credibility and visibility
Brandon Sanderson has published many books with Tor, a very high-profile sci-fi/fantasy-focused traditional publishing imprint which has put a lot of marketing money and clout behind him and his work. He has won awards, hit bestseller lists, and was even tapped to finish the beloved Wheel of Time series after original author Robert Jordan's passing. All of this has helped build Sanderson's profile and made science fiction and fantasy (SFF) readers take his work seriously from the beginning of his publishing career.
Passionate fan community
Brandon Sanderson has been deeply involved with the sci-fi/fantasy fan community for most of his life, all the way back to his time as editor-in-chief of SFF magazine The Leading Edge when he was in college. Even before he published his first novel, he attended events such as WorldCon and World Fantasy Convention, making friends in the SFF reading and writing community. His authentic passion for SFF stories is evident to readers, who relate to him on that level as well as enjoying his epic fantasy books.
In an interview with The Creative Independent, Sanderson shared, "as a product of the early internet generation, I was very comfortable interacting with [fans] on the internet. This also distinguished me. I was a lot younger, and a lot closer [in age] to that fan base than my [writer] contemporaries. And so I started doing book signings where I had a mailing list, and I had internet forums that I frequented, and I had a blog. And this was all before this was done very widely among authors."
Over time, Sanderson also built up his following on social media sites, including more than 330,000 subscribers on YouTube, where he posts updates, interviews, and other content at least weekly. There's even a Brandon Sanderson subreddit that he drops into on occasion. The open, generous, regular way he connects with readers inspires enthusiastic loyalty.
Backers of the four secret novels will form the biggest book club of 2023 as a new title drops every three months.
Fun and excitement
Both The Way of Kings leatherbound project and Sanderson's new campaign have elements of fun, excitement, and community engagement built in. As The Way of Kings project passed successive pledge milestones, stretch goals were activated, offering readers extra swag like challenge coins and stickers and behind-the-scenes access like novella drafts. This created a game-like experience for readers, encouraging them to share the project with their fantasy-fiction-loving friends and keeping them engaged during the whole length of the campaign.
The new project is quite different, but the surprise of announcing four brand new novels at once was very exciting for Sanderson's most passionate readers, who rushed to pledge for the new works in the format(s) of their choice. And as the project started breaking records, fans talked about it all over the internet. Backers of the four secret novels will form the biggest book club of 2023 as a new title drops every three months. It's going to be a pretty fun club to be part of, as evidenced by the thousands of comments on the Kickstarter project, cheering, celebrating, and even playing internet games like "What's in the Swag Boxes? (Wrong answers only)". Reading is typically a solitary hobby, so readers love a big celebratory communal book moment like a cover reveal or a midnight book release party. And this has certainly become a very big book moment!
A strong promotional plan
Being successful on Kickstarter requires a well-thought-out promotional plan. Before his first Kickstarter project, Sanderson and the Dragonsteel team began talking about their plans to create a leatherbound edition in his blog and elsewhere more than six months in advance. He talked to his fanbase about what he was making, when they could expect it, and why it was going to be expensive (The Way of Kings is so long it had to be split into two leatherbound volumes contained in a beautiful box). The team had a professional press strategy, a multi-pronged promotional strategy, and they talked with me about how best to use Kickstarter for months ahead of launch. This really paid off: the project raised $6.8M and broke the record for most funded Kickstarter Publishing project of all time.
Sanderson and his team knew that the four surprise novels project would be very newsworthy, so they kept the whole idea completely secret until launch day, banking on the surprise and delight of his readers to drive the project to its ambitious $1M goal. They also knew that Kickstarter would notify the 29,778 backers of Sanderson's previous project on launch day, which was a big advantage over his first project launch. (Someone who likes his work enough to pledge $200+ for a leatherbound edition of a previously published book is very likely to pledge $160 for 4 brand new hardcover novels.) Beyond that initial burst, they also had a strong promotional plan and press strategy to put into effect once the campaign was live.
Algorithms and internet dynamics
Once a project starts gaining substantial traction on Kickstarter, it can blow up in a BIG way. Projects tend to begin with pledges from the creator's most passionate fans and community, and then the audience grows as Kickstarter's recommendation engine introduces the project to others who might be interested in it. Backers are encouraged to share the project with their own friends, fans, and followers, and Kickstarter's all-or-nothing funding model means that quite a lot of them do. Word of mouth can help a big project reach a lot of new readers.
All the major social platforms also have their own recommendation algorithms. The video where Brandon Sanderson announced the project became the #1 trending video on YouTube the day he launched, and it has been watched by 1.2M people as of this writing. Online momentum can compound on itself, creating bigger and bigger waves of awareness.
Finally, for the biggest projects—ones that break records or are in other ways especially noteworthy—press starts to cover them, as The Guardian, The Verge, CNN, and many other major news outlets did last week. This fuels the momentum cycle all over again, bringing in new backers who pledge, recommend the project, and teach the algorithm that the project is a good thing to recommend.
A little help from his friends
Okay, more than a little help: Brandon Sanderson has a whole team working on this project. Dragonsteel Entertainment is a publishing company with 30 team members who are experts on design, production, shipping logistics, and more. So even though this project can be seen as an author self-publishing his work, it's more like an experienced independent book publisher bringing this to life—one that's particularly familiar with Brandon Sanderson's work and fanbase, and is totally dedicated to making this project great.
Brandon Sanderson and the team at Dragonsteel may have managed to catch lightning in a bottle with this project, and it would be pretty tough for the vast majority of authors to replicate this level of success. But they also worked tremendously hard to put everything in place to ensure their success with this campaign. Not every publishing project can break Kickstarter's records, but this platform can still be really effective for writers and publishers at all different stages of their career and levels of fame.