Most of us have seen it, some of us have worried about it, and others are excited about it: the beginning of a Kickstarter campaign. Whether you're building your very first campaign or just brushing up, there's no need to start with a blank slate. After working on over 500 campaigns in the Art and Photography categories, I've distilled each piece of the pie and gathered proven strategies that work time and time again. Read on to get started.
When it Comes to Writing, Efficiency Is Key
Most creators launching campaigns in the Art and Photography categories want to talk about everything and anything that has to do with the project they're crowdfunding. We love that energy, but we need to direct it. That's because writing campaign text is not like an essay or grant application; it's direct, straightforward, and cuts to the chase. Many Kickstarter backers use English as a second language, and most only spend a few minutes on the page before deciding to back it, so it's paramount to keep it simple.
Use these questions as suggested sections for your campaign text, then collect everything you've written about your project (so far). As you read, see if any existing materials answer these questions, and move them under that section if they do. You may realize you've already written what you need—you just had to reorganize so your reader can clearly see what your project is, why it matters, and why you need their help.
See what questions are left unanswered, and write new text for these. Ask yourself these questions as you write:
Would a total stranger understand my language and the purpose of my project, know when it's happening, and see why it's important? If so, they're more likely to back it.
Would a friend read this and feel proud of your work? If so, they're more likely to back it.
Is my text too long? Successful campaigns often have less than two pages of text.

Your goal here should be to tell your story and present your project efficiently, so that any reader can get excited to back it, share it, and see it.
Spend a few hours on this draft, then share it with an artist friend, a curator or collector, and someone not in the arts (but someone you think will donate, like a family member). Get their takes, incorporate their feedback, then upload to your Kickstarter campaign draft page.
With Images, the Brighter, the Better
Whether you're at the drawing board or off the press, campaigns need compelling imagery to show the viewer the work you intend to build with their support. Here are some tips on picking the right photos:
Preliminary sketches and renderings, especially those with color
Hi-res photos of past projects you've worked on that exemplify your skills
Photos of people seeing your past, or current, work (bonus if people are smiling)
Images without text—use Kickstarter's caption feature if you need to describe an image instead.
A solid headshot for you and/or your team.
Images for every reward. If some haven't been made yet, upload a mockup! Backers are much more likely to pick a reward they can see.

The brightest or strongest image should be your campaign header image. Remember: no text on the image (it'll be too small for some people to read anyway when your campaign appears on the search tab). Take a look at the Projects We Love in Public Art to find some stellar examples.
Set images in between your campaign text sections to break up the monotony of your words. Collect images for all your rewards, and upload them at the bottom of your campaign text. (Backers are much more likely to pick a reward if they can see it.)
I've also seen creators build GIFs and upload them as a way to show a gallery of images and keep an eye focused on the page and your work. Just don't have the pictures cycle too fast—it can turn from intriguing to distracting, especially for older and disabled readers. (I recommend 1500 milliseconds.)
For a few stellar examples of images, check out projects like Dread Scott, the Wide Awakes, or Elliot Ross and Genevieve Allison.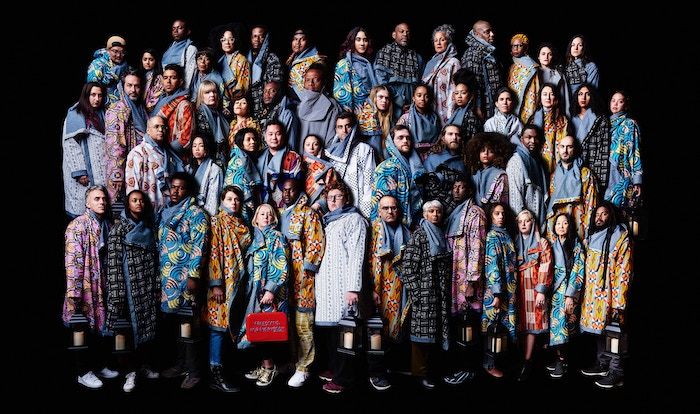 Have Fun with Your Launch Video
I've witnessed too many artists clam up when they think about the campaign video. It shouldn't be a pain, so how can we approach the video differently?
Think of this: If someone's in transit or doesn't have time to read your text, they're likely go to your video first. It's a trailer to them, a way to hear your voice, see your vision, and get excited. It's your invitation. What would your invitation look like?
When you reframe the video as an invitation, it often feels less daunting. We've built a foolproof video guide that walks through every step of the process, from considering a videographer to speaking the script.
Some key takeaways include:
Make sure you've got an accessible folder all your b-roll of past projects, or the current project you're working on, which can be used as imagery for the video.
You can record your script with a simple microphone borrowed from a musician friend. Speak it a few times until you get the best cut.
If you can't pay someone to help you out, offer them a reward that's at least $100 from your campaign.
Don't overdo, and don't overthink. Your campaign is likely not a multi-million dollar venture; you're not expected to produce a studio-quality piece. I've found "low-budget" or "no-budget" videos to be just as powerful, if not more powerful, than high-budget ones. Some examples to check out include Liz Collins, Creative Time, and The Invisible Dog.

Make it Easy on Yourself by Thinking of Simple Rewards
Just like the video, I often see campaign creators overthink (and even overpromise and underdeliver) their rewards. That's why I always suggest keeping rewards on the simpler side and thinking of them as thank-yous, rare art objects, and meaningful acknowledgements instead of an overwhelming gift shop. Rewards that ultimately relate to the project you're funding and remind the backer of the piece you made are often the most successful.
Start by viewing our reward spreadsheet and copying and pasting it into your own on Google Sheets or Excel, then walk through these notes:
Some of the best reward spreads are only five to eight rewards total, keeping backers' options simple and efficient.
Start with a $5 or $10 Thank You, and invite that backer to be added to your mailing list.
A strong $25 or $35 physical item is great to include, like a quick print, postcard or an artwork you've already made at a large or open edition.
Other rewards can be at $50, or $75, or $100, and so on. Think of experiences like a Zoom cooking class or acknowledgements like backers' names on a website or book. There's also 96 ideas here if you're stumped.
If your Kickstarter goal is more than $1,000, it's wise to offer a three or four-digit artwork for a collector you have in mind—and point them toward it. This could be a limited edition work or a unique piece of your art.

If you do have merch-based rewards like a sweatshirt or hat, offer an inclusive range of sizes but limit the number of colorways and "customizations." The last thing you need after the campaign is a headache sorting through a heap of rewards for your backers, because your time is supposed to be spent making the project, not shipping shirts!
Lastly, be generous with your delivery times. You set your estimately delivery dates, not your backers. Unless the rewards are already made, give yourself at least three to six months to find a producer, make the rewards, and ship them to backers. I'd rather have you estimate far into the future and deliver early than vice versa.
Keep Your Goal on the Smaller Side
There is some powerful reverse psychology with Kickstarter campaign goal sizes. A few notable lessons include:
When goals are low, they meet their goal quicker, building a bandwagon effect after you hit your goal because backers know they'll get their reward.
Who doesn't want to be part of a success story? I often see backer counts go up right when campaign creators hit their goal early in their campaign and celebrate it publicly.
The optics of having a campaign close at 200 percent funded because your goal size was low helps you tell a story of double the demand (and success!) to prospective investors, collectors, and funders once your campaign's done.

That's all to say I recommend setting your goal as low as possible. It doesn't mean setting it artificially low—you know how much money you need to make your project happen at the bare minimum, and you shouldn't set it below that number and risk under-delivering and disappointing your community. It just means we tend to see success stories happen when they're framed as sprints with multiple victory laps more than when they're long, heavy marathons to a huge finish line.
This is also why the rise in stretch goals feels smart, strategic, and ultimately less risky on your end. An example: If your campaign's minimum budget is $10,000, set your first campaign goal at $10,000 with the intention of setting stretch goals at $20,000, $30,000, and $40,000. Maybe your entire strategy is to ultimately reach $50,000; if you only end at $25,000, you won't risk losing all your funds, but you'll still stay true to your promise of realizing your project and satisfying your backers.
In Summary: Take it in Bite-Size Pieces, Step-by-Step
Kickstarter campaigns can sometimes feel daunting when first starting out. That's why it's important to know you're not starting from scratch. There are plenty of guides and templates here and elsewhere to get you on your road to launch; it's about taking each piece step-by-step, working on them individually for a day or two. You'll be surprised that, if you take this advice, you'll have your first draft Kickstarter campaign in just one week.