Hi all!
I'm Nicole Amato, Kickstarter's Games Outreach Lead, and I'm excited to share some details about our team's presence at PAX Unplugged next week.
For the uninitiated, PAX Unplugged is a huge tabletop game expo that happens in the magical city of Philadelphia, PA from December 2nd to 4th. 30,000 gamers descend on the City of Brotherly Love to play thousands of board games, talk to each other about about games, talk to creators of games, and generally celebrate the awesomeness of games.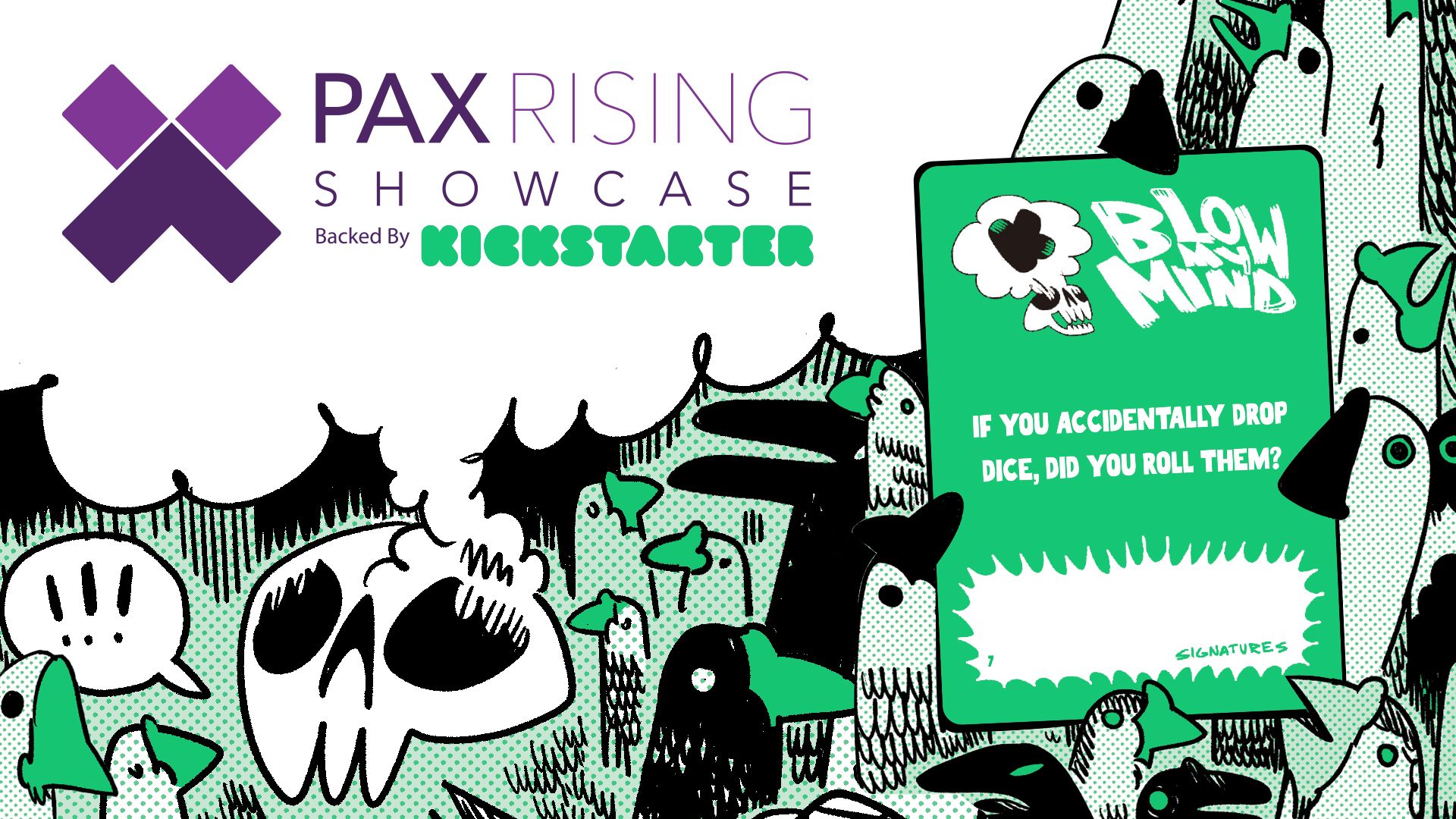 PAX Rising
This year, Kickstarter will be at booth 2623 (come say hi!) along with the six winners of the PAX Rising Showcase. Pax Rising is a curated collection of games by awesome independent creators — this is the first time there will be an indie showcase at PAX Unplugged, and we're so excited to be sponsoring it. The games are amazing, and we're thrilled for you to play them.
Our first game!
We'll also be debuting Kickstarter's first-ever game, Blow My Mind, designed by our pals at Forever Stoked Creative! Blow My Mind is a conversational debate game where the goal isn't to win the debate, but to blow the most minds with weird and interesting points while you collectively try to answer the unanswerable. We think you're going to love it. Check out this Dicebreaker article for more info.
Panels and discussion
We'll also be on some fun and interesting panels that you should be sure to check out. I'm really excited that Everette Taylor, Kickstarter's new CEO, will be joining our Director of Games, Jon Ritter-Roderick, to discuss Kickstarter's past, present, and future in an open Q&A. Meanwhile, I'll be joining a live onstage game of Poetry for Neanderthals with a bunch of other industry folks, and Jon will talk about the joys and pains of making games that use weird and unique materials at a panel called Make Fancy Dumb Stuff.
Get in touch!
If you're working on a game that will be on Kickstarter during PAX Unplugged, please hit us up! We want to help spread the word so folks can see it in the hall and back your project. Send us a message now at games@kickstarter.com with the subject line "I'll be at PAX!" to let us know where we can find you.
We're looking forward to spending some time with all of you at PAX Unplugged. We hope you'll stop by, play some games, and get your mind blown!