We're headed to San Diego Comic-Con
Kickstarter is the leading crowdfunding platform for comics and we have the stats to show it. In the first half of the year, more than 1,600 projects in our Comics category were launched on Kickstarter — a 14% increase compared to the same time in 2022. 78% of all of these projects successfully met their funding goal and backers pledged $17.6M to Comics projects between January and June 2023.
As our Comics category continues to grow, we're finding ways to show up bigger and better for creators and backers. So, with San Diego Comic-Con (July 20-23) on the horizon, we're showing up bigger than we ever have before. In addition to having Kickstarter leaders on stage alongside some of our top comics creators, for the first time ever, we'll have our own dedicated booth (#1632) at the convention.
From the stage to the booth, our focus at San Diego Comic-Con is on elevating comics creators and their work, engaging with the comics community around the topics that are top of mind, creating opportunities for creators to connect with their fans, and helping comics lovers understand how crowdfunding helps pump new ideas into the industry.
For your viewing pleasure: art @ our booth
With the booth being our home base, we want to ensure that we don't just bring the community to it but that the booth reflects and represents the community we serve.
The walls of our booth will feature artwork from 19 comics that came to life because of Kickstarter campaigns.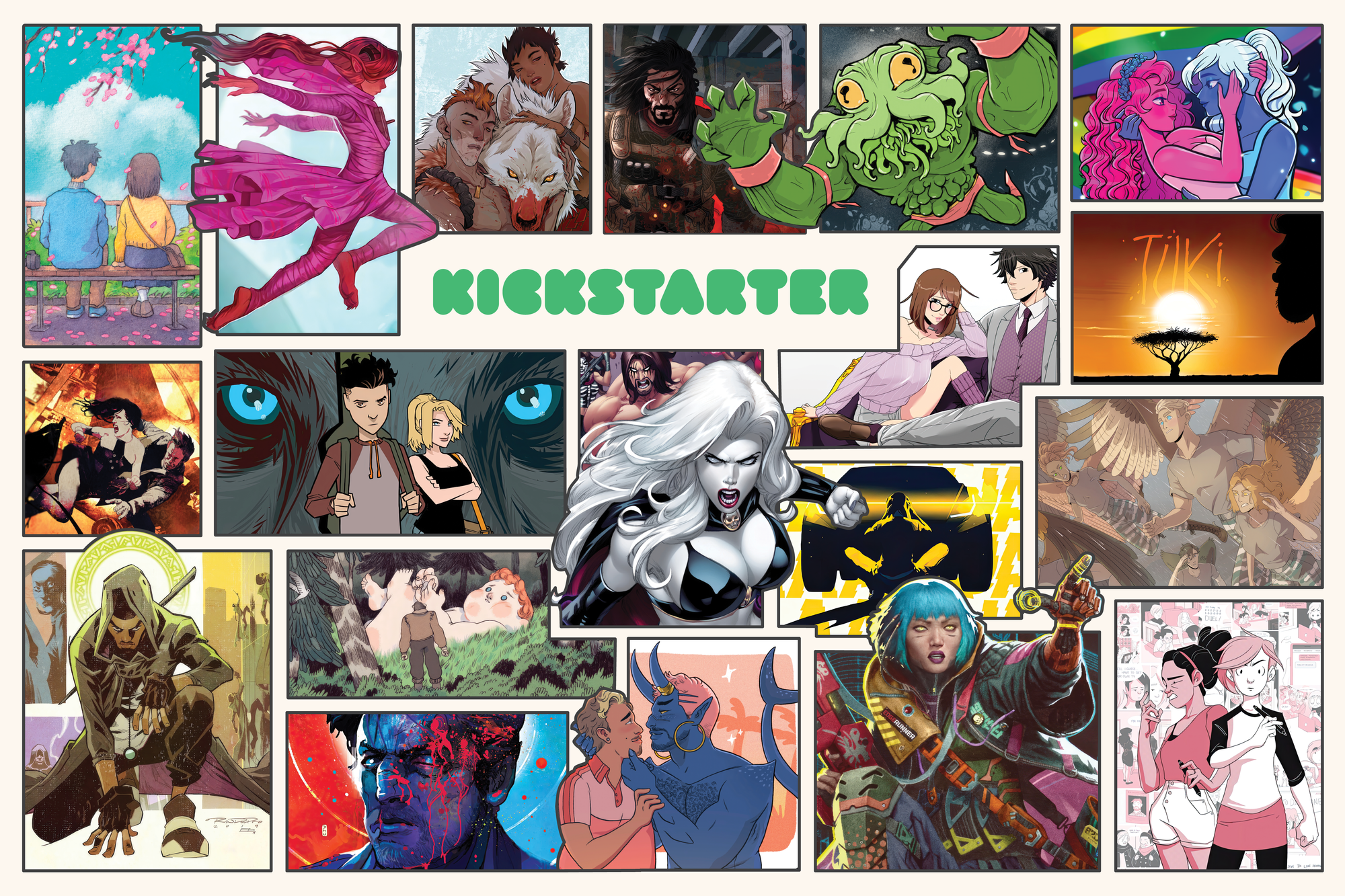 Artwork from Kickstarter creators won't just be on the walls of our booth. You can also walk away with creator artwork right in your pocket: Amanda Conner and Ryan Benjamin have designed two enamel pins that we'll be giving away to visitors to our booth. The pins are exclusive to San Diego Comic-Con, and our booth will be the only place you can grab them.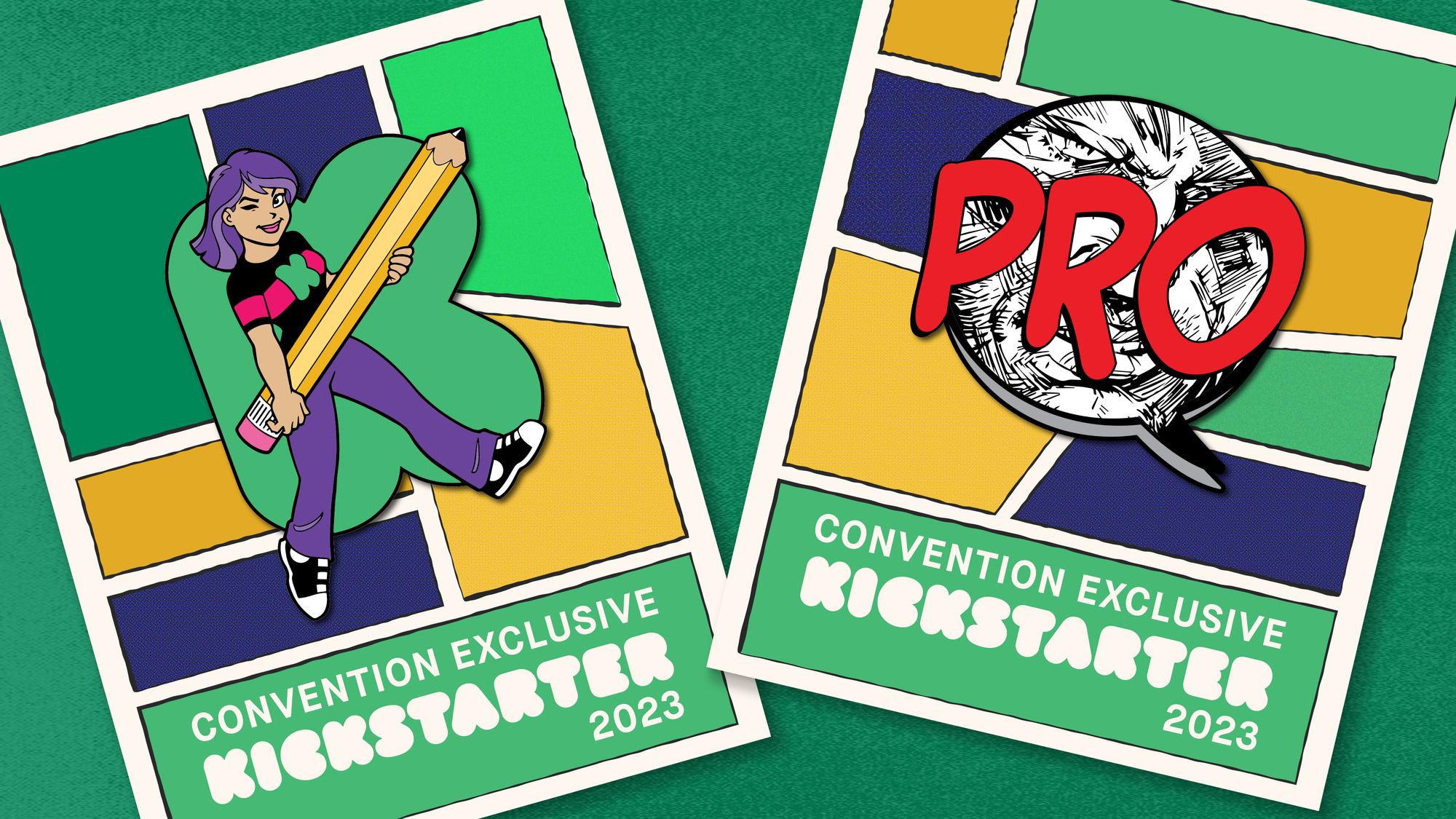 Get signatures from your favorite comics creators
You'll also be able to connect with some of your favorite creators IRL. Thirteen creators will be doing signings at our booth from Thursday, July 20 to Sunday, July 23:
Thursday, July 20
1:00 - 2:00 pm — Charlie Stickney, Conor Hughes
4:00 - 5:00 pm — Russell Nohelty
Friday, July 21
2:30 - 3:30 pm — Jimmy Palmiotti, Amanda Conner
4:30 - 5:30 pm — Josh Trujillo
Saturday, July 22
11:00 am - 12:00 pm — Ray Chou
1:00 - 2:00 pm — Jeff Smith
2:00 - 3:00 pm — Kat Calamia
4:00 - 5:00 pm — Brian Pulido
5:00 - 6:00 pm — Dean Haspiel
6:00 - 7:00 pm — Pat Shand
Sunday, July 23
11:30 am - 12:30 pm — Madeleine Holly-Rosing
12:30 am - 1:30 pm — Chris Robinson
1:30 - 2:30 pm — Dean Haspiel
2:30 - 3:30 pm — Josh Trujillo
3:30 - 4:30 pm — Pat Shand
In addition to signing copies of your favorite comics, Charlie Stickney will be selling a variety of comics he funded on Kickstarter, and Brian Pulido will be giving away an exclusive print.
When we aren't hosting signings, we'll have people at our booth ready to chat and answer questions about how Kickstarter can help bring your ideas to life. Stop by and say hi!
Join the conversation: Catch us on panels
You can find our Head of Comics Bryce Gold and our Head of Publishing & Journalism Oriana Leckert at the booth, but you'll also find them on stage for two panel discussions.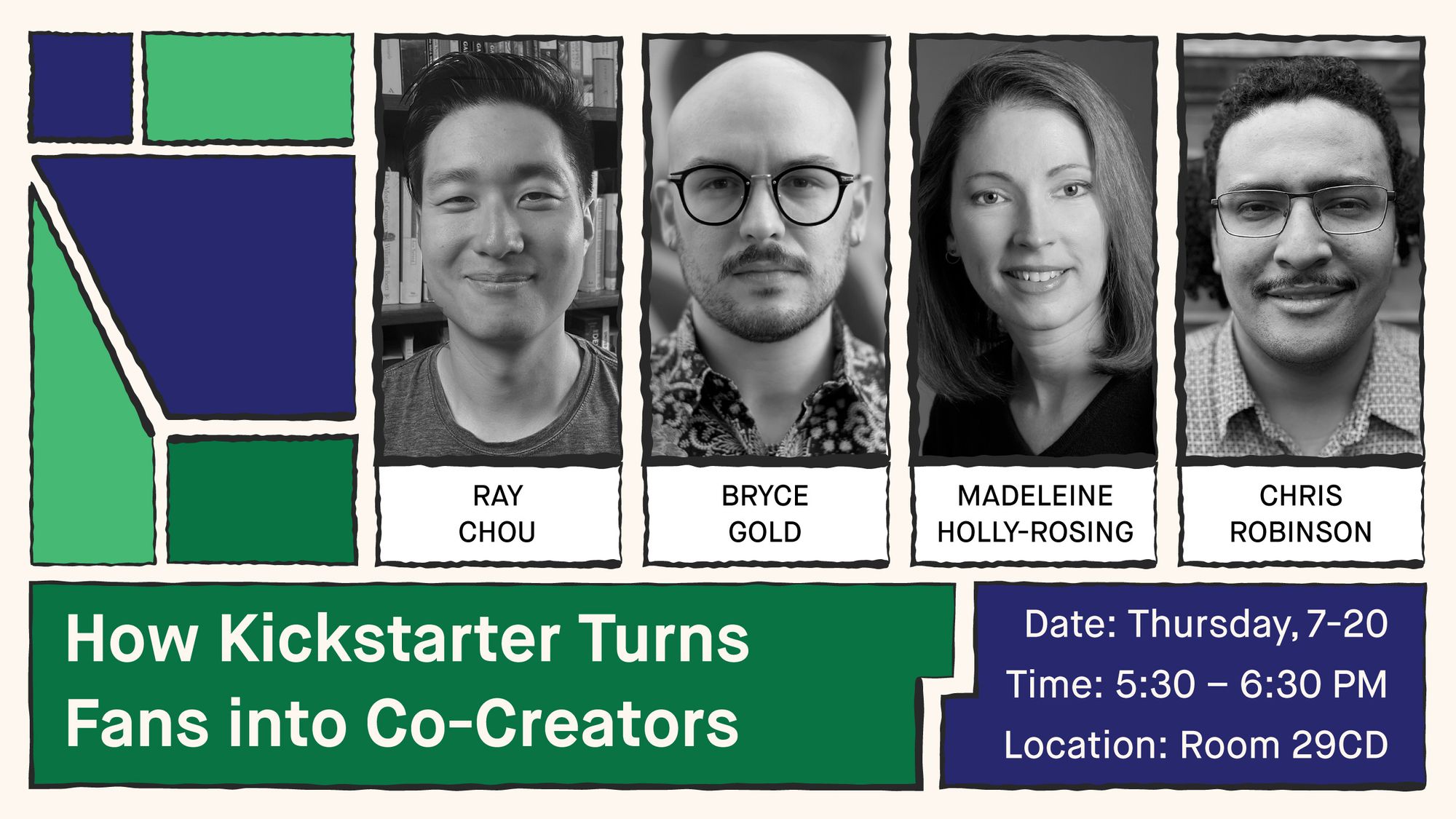 How Kickstarter Turns Fans into Co-Creators
Date: Thursday, July 20 @ 5:30 – 6:30 pm
Location: Room 29CD
Our first panel brings Bryce together with some of the platform's leading creators — Chris Robinson, Madeleine Holly-Rosing, and Ray Chou — to discuss how crowdfunding enables creators and fans to converge and collaborate.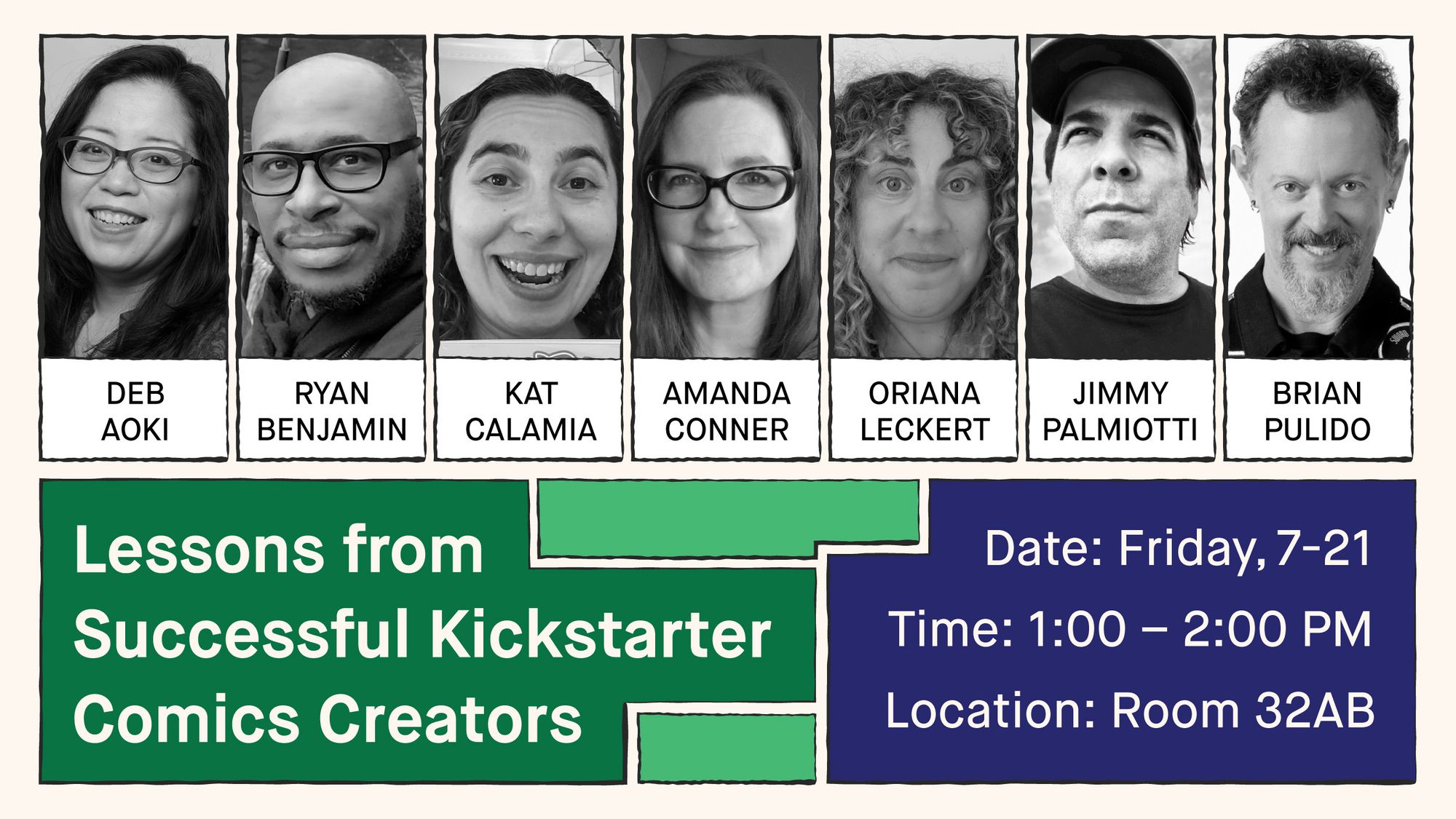 Lessons from Successful Kickstarter Comics Creators
Date: Friday, July 21 @ 1:00 – 2:00 pm
Location: Room 32AB
For our second panel, journalist Deb Aoiki will moderate a discussion between Oriana and some of Kickstarter's leading comics creators — Amanda Conner, Jimmy Palmiotti, Brian Pulido, Kat Calamia, and Ryan Benjamin — that will cover tips, tricks, and tactics for creating and running a successful Kickstarter campaign.
Oriana will also be joining Kickstarting Comics in 2023 and Beyond, along with industry leaders Tom Akel, CEO and publisher of Rocketship Entertainment; Robert Napton, SVP of Publishing at Legendary; Dinesh Shamdasani, CEO of Bad Idea; and Der-shing Helmer, Managing Editor at Vault Comics. The group will discuss the phenomenal achievements of comics creators on our platform and share crowdfunding best practices.
See you in San Diego
We can't wait to touch down at #SDCC2023. If you can't join us there, be sure to follow us on Instagram, Threads, Twitter, and TikTok where we'll be sharing highlights from the convention.