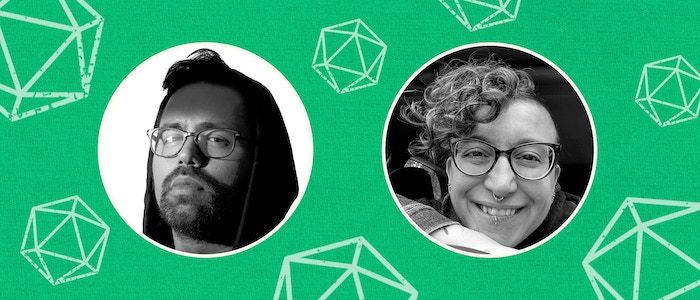 There's no question that games are at the very heart of what we do at Kickstarter. Since our launch in 2009, Kickstarter has become the home for the largest, most engaged games community in the crowdfunding industry, with nearly $2B pledged to 70,000 projects in our Games category since 2009. Beyond these impressive numbers, the inspiring work that independent game designers launch on Kickstarter embodies the true spirit of our mission—helping people come together to bring creative projects to life (whether that's gathering around a table to spin up a new RPG campaign or gathering virtually to back a Kickstarter campaign and cheer on your favorite creator).
That's why it's so important that Kickstarter's Games Outreach team is made up of trusted industry experts with a strong track record of supporting (and creating!) Games projects. And today, we're pleased to introduce you to our intrepid Games team, with both new and familiar faces!
First, we're very excited to announce that our new Director of Games is Jon Ritter-Roderick. Jon has been our Senior Outreach Lead for Tabletop since 2020, but for those of you in the games world, you know he's been in the industry much longer than that.
Jon is a successful game creator himself, founding Lay Waste Games in 2013, and going on to use his experience as a game publisher to advise on other Kickstarter campaigns, including Frosthaven from Cephalofair, Trogdor!! from Homestar Runner, SHASN from Zain Memon, and The Shivers from Pop Fiction Games.
Since joining Kickstarter two years ago, Jon has helped hundreds of creators launch their campaigns, while passionately advocating for game creator needs internally to ensure Kickstarter remains the ideal place for bringing creative projects to life. We couldn't be happier to have him at the helm.
Follow Jon on Twitter at @jonritter.
We're also proud to welcome a new Games Outreach Lead, Nicole Amato, who will be joining Jon on the Games Outreach team.
Nicole is a seasoned game designer, writer, editor, gamer, and podcaster who got her start in the game industry in 2009 writing and editing for video games.
In 2013, Nicole made her first tabletop game, RESISTOR_, which she later launched on Kickstarter. She has won a Philly Geek Award, published four board games, and contributed to a dozen more. Her games have also been part of both IndieCade and IndieMEGABOOTH.
Nicole is experienced in playtesting, consulting, and collaboration, and is one of the co-founders of Game Makers Guild Philadelphia, a local playtesting group, and the Tabletop Co-op, a cooperative of board game designers who help each other at conventions. Her passion for collaboration and understanding of the creator journey will be an incredible asset to us at Kickstarter and we are honored to have her on board.
In addition to Jon and Nicole, we work with Michael Liebe and Elina Roinioti to support game creators based in Europe. Their work in the games community has been integral to Kickstarter's expansion in Europe and they have supported hugely successful campaigns from The Witcher: Old World to The Wandering Village.
You'll be hearing a lot more from our Games team, and be sure to say hi to them at upcoming game events like Essen Game Fair in Germany and PAX Unplugged in Philly. For now, you can subscribe to the Games newsletter they curate, and if you have questions about running your own Games project, you can always get in touch by emailing games@kickstarter.com.