Hi, my name is Zak Thompson, and I'm a software engineer here at Kickstarter. I'm here to tell you about some cool new updates we've made to our text editor.
Creating a compelling project story is crucial. It's the first impression. The inspiring journey. The narrative that can turn a browser into a backer. It takes potential supporters through a project's history, vision, and heart. And our text editor is where all of this magic happens. Or so we thought.
Because we're building Kickstarter with and for creators, we thrive on feedback (the good and the please-fix-this). Earlier this year, we surveyed and interviewed creators with projects currently in build (or still a draft) to understand how to improve the platform. Over the last few months, our product, design, and engineering teams have brought some of these requests to life, like images on rewards, a new rewards tab, and a beta for advanced project analytics.

In that feedback, creators also shared that our text editor wasn't supporting their needs. It was clunky and hard to navigate, leading to a frustrating storytelling experience. After reviewing the text editor from all angles, we agreed wholeheartedly. First impressions are stressful enough. So we went to work.

We're happy to introduce our new and improved text editor, an intuitive storytelling tool that includes all the functions you requested, from media embeds (think songs or videos) to page anchors (think table of contents). Apologies to anyone who loved the extra newlines around your images every time you saved, but that bug, and many others, is gone.
This text editor update also lays the foundation for even more editing features. So keep the feedback coming. Let's dig into your new and improved text editor.
Intuitive Toolbar: Customize With Ease

For an effortless editing experience, we added a contextual toolbar that gives you relevant options based on what you're editing. For example, if you click an image, the toolbar will present an option to add captions, URLs, and alt text. Selecting text alone will allow you to change the formatting, like bolding for emphasis.

Table Of Contents: Goodbye Endless Scrolling

One feature request from creators and backers was a simple way to navigate a project's story. With images, long paragraphs, updates, and more, project stories can get long. To save time (and your eyes), we added a simple table of contents functionality.
Selecting a "heading" within the editor will automatically create a page anchor. Each anchored heading makes a quick and easy link to jump to relevant sections within a project story. This new feature lives on the creator side within the project preview and your live project page for a better backer experience.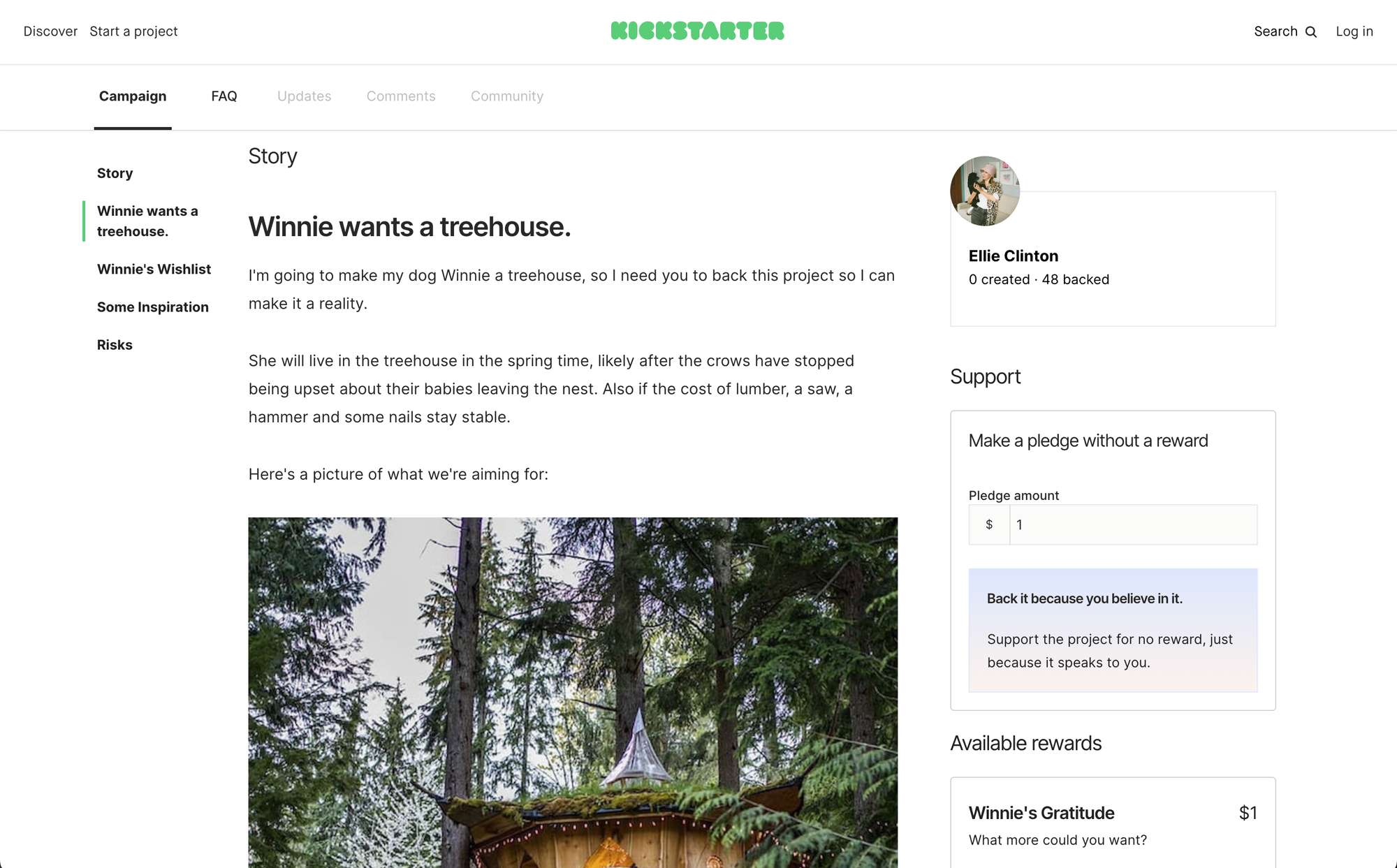 Easily Embed Media: Show And Tell

Your story should be as dynamic as you are. Now, you can easily embed media links and display them in your project story. This feature is useful if you want to show a video of your project from YouTube or Vimeo or share your songs from Spotify. Check out a full list of media embed options.

My teammates and I believe these updates will create a more dynamic experience for creators telling their stories in build and give backers a better way to engage with project stories. Thanks for always being open and honest with us about the tools that need improvement. We love building Kickstarter with you!