As the head of the Creator and Backer Success team at Kickstarter, my role involves overseeing various touchpoints that foster shared success within our community. From Community Support to Creator Outreach, Lifecycle Marketing, Creator Growth, and events, our team is dedicated to listening, assisting, and strategizing around efforts to enhance the community experience.
In the winter of 2022, with the aim of reinvigorating our community-centric approach at Kickstarter, I initiated the planning of a Community Advisory Council. This project was conceived as a means of ensuring accountability to our community and aligning our decision-making with creators' interests and needs. Internally, I introduced the concept and asked for commitments from each department lead on how they would actively involve the Council in making community-centered decisions. From Legal and Engineering to Product and Marketing, every vice president at Kickstarter expressed their commitment to integrating the Council into their respective areas of work.
Fast forward approximately twelve months, and we have successfully concluded our inaugural cohort of the Community Advisory Council. I can confidently say that what we achieved went far beyond standard community-centricity, delving into the realm of profound alignment and deep care. During my tenure at Etsy under Chad Dickerson, he often emphasized the value of feedback as a gift that should be cherished. I felt that the spirit of this sentiment resonated strongly with the Council members during our meetings. Their willingness to provide us with straightforward and sincere feedback stems from their genuine love for the community and the platform that has enabled so many creative projects to see the light of day and change the world.
The Council members spanned the range of categories Kickstarter supports, and many are renowned for what they have been able to achieve — Ivan Askwith brought the Veronica Mars movie to life through crowdfunding, Annette Azan liberated our boobs with her innovative Nuudii system, Thomas Negovan just premiered a film at Cannes, and Philip Winter put the environment front and center by reinventing the shower head with Nebia. All twelve creators on the Council have accomplished incredible things; collectively, they embodied our vision of a diverse and accomplished group who could contribute valuable perspectives and expertise spanning various creative fields.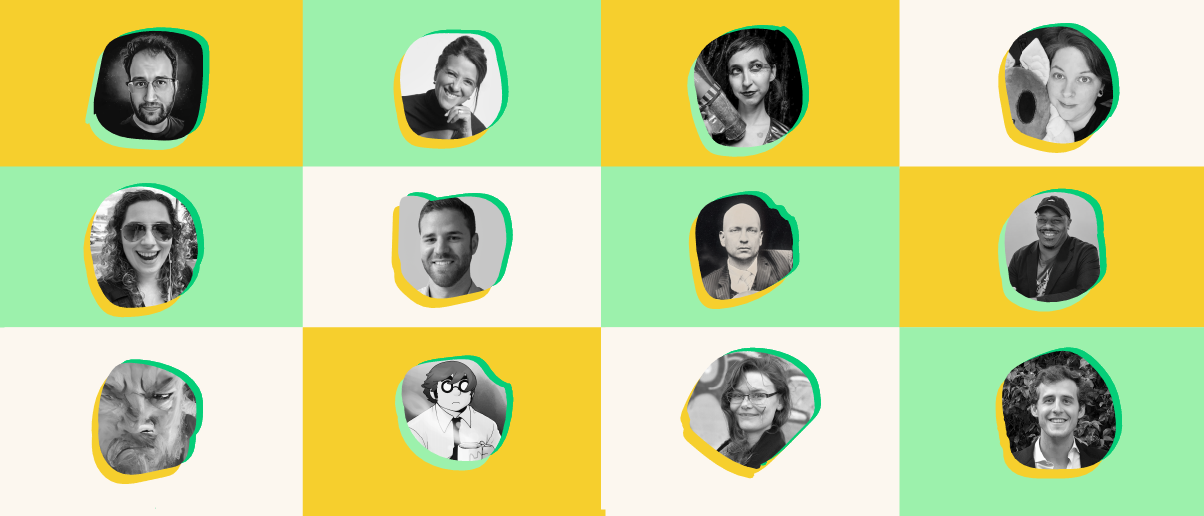 In bringing this group together, I wanted to ensure we were focusing on the core things that our community cares about. To achieve this, I had extensive conversations with creators throughout the Council application process and engaged in intake calls with Council members once we had our group together. This allowed me to design meeting agendas that heavily emphasized conversations they wanted to have around Kickstarter's product features, as well as facilitate discussions concerning some of the most vital challenges in our business, such as inclusivity, community, education, tiered income, trust, services, and tools. The input we received from creators representing various categories and business sizes has proven invaluable in ensuring that our focus aligns with their specific needs.
"The most certain way to ensure the well-being of Kickstarter as a creator-oriented crowdfunding tool is to speak up for your segment of the community when you feel something could be adjusted to improve the experience. The Kickstarter Advisory Council is a direct line to the platform's decision-makers." — Thomas Negovan

"Kickstarter truly makes you feel like part of their family! They were open to our feedback and used our conversations and suggestions to make real lasting improvements on the platform." — Kat Calamia

"My early fears about the Council serving as a rubber stamp or as a PR move were disabused within the first few minutes of our first meeting." — Jose Cardona

"Kickstarter has taken most of the feedback provided by us Community Advisory Council members and has implemented many highly desirable updates to the platform over the last year. They have made me feel like my voice and opinions matter, and I am so proud to have been a part of this tremendous period of growth for Kickstarter." — Stefanie Black
For our final meeting together last week, I wanted to take the opportunity to both celebrate the twelve months of input from the Council while also building something new together, so Tony Patrick led us in a visioning exercise for "the Kickstarter community of the future." It was an amazing discussion that leveraged the individual perspectives and communities of the Council members where values like optimism, trust, and humanity were matched to ideals like more connection, partnership, and systems that reward positive community actions that help support the whole ecosystem. Inspiring as always.
So what got done and what did the Advisory Council really change about our work here at Kickstarter? While advisory councils often tend to take the form of mere marketing stunts, our approach was different. We established channels for extensive feedback collection, including meetings, surveys, Slack, Zoom interviews, and email, in order to gather input from all stakeholders. This feedback was then carefully reviewed and prioritized internally. I kept a Kanban board of the ideas that came in (fun fact: using Kanban was the result of a suggestion from a Council member) and ticked each one off when they went into production as a way to track our alignment.
The feedback from the Council repeatedly emphasized the importance of aligning Kickstarter's priorities with those of creators and backers. At times, our prioritization didn't match the Council's expectations, and they pushed us to explain why certain efforts took precedence over essential aspects like pledge management tools, digital marketing support, and UX fixes. The Council specifically deserves credit for highlighting our campaign text editor's shortcomings, which they consistently pointed out as a pain point. Initially, it wasn't part of our product roadmap, but due to the Council's insistence, we revisited it and developed a solution.
---
Key updates Kickstarter made with the input of this Council cohort:
We implemented Meta Pixel for enhanced analytics and tracking.
We established a partnership with Easyship to streamline the shipping processes.
We formed a partnership with Kicktraq to improve the pledge management process.
We developed a partnership with Jellop to make digital marketing easier and better.
We made improvements to our text editor and creator dashboard.
We launched an "images on rewards" feature to enable creators to better communicate what's available in each of their rewards tiers.
We spun up a new email series that supports more new and smaller creators.
We took feedback about protocol technology and have instead focused our company efforts on the core business and needs of our creative community.
---
Inclusivity emerged as another key theme in the feedback we received from the Council. We engaged in discussions regarding the importance of being an inclusive platform that welcomes creators of all sizes. I was surprised to discover that all the Council members supported the notion of having larger creators on our platform. They recognized that the visibility and trust established through backers' interactions with these creators benefit the entire community. The Council also provided valuable feedback on initiatives such as Make 100, Long Story Short, and Zinequest, which were seen as effective in reducing barriers to entry for creators looking to launch their projects. Additionally, they expressed a desire for more tools and resources that could promote and support the success of fellow creators.
Lastly, the Council frequently shared feedback regarding how Kickstarter shows up in the world and our approach to emerging technologies. Several members emphasized the importance of fully embracing our position of leadership in the crowdfunding space. They encouraged us to utilize our influence as a powerful force in building trust and raising awareness for the entire industry. This perspective has significantly contributed to the development of an AI policy which is forthcoming, knowing that our community relies on us to champion initiatives that drive progress across the industry while also supporting creators. Moreover, the Council's insights have helped us reframe our focus on the core business and provided us with invaluable perspective (ahem, tough feedback) on R&D efforts with protocol technology.
When we evaluated our impact with this cohort internally, we felt again and again that their input and frank feedback helped us make better decisions for the entire ecosystem of creators and backers. Kickstarter is a brand and community we want to build together. It's a place where there are many paths to success.
With this perspective in mind, I am pleased to share that we will soon be opening the application process for our next Community Advisory Council cohort. As we prepare to host this next group, I encourage other Kickstarter creators to consider applying and becoming a part of it. Your enthusiasm, determination, and creativity are valuable assets that can contribute to shaping a stronger Kickstarter that endures in the future while fostering innovation and independence worldwide. Stay tuned for information on how to join this exciting opportunity.
It has been a true honor to build this Kickstarter program with such an incredible cohort of creators alongside us. A huge hug and thank you to Annette, Ellia, George, Ivan, Jose, Kat, Philomena, Philip, Philip, Stefanie, Thomas, and Tony for your dedication and perspective.